In early March of 2015, before I had even run my first road marathon, I registered for the Marine Corps Marathon lottery. Shortly after my challenging but rewarding completion of the Shamrock Marathon in Virginia Beach, (Let's just look at the finisher photo from that race, shall we…)
I received confirmation that I had gained entry to MCM 2015, the 40th annual marathon. The card was charged, and BOOM, I was recommitted to endurance training.
Eager to make a new personal record, I picked the brains of runner friends and incorporated training information from my amazing coach who prepared me for my first marathon. The combination of both provided me with a training regimen that emphasized overall increased volume, cumulative fatigue, and race pace tempo runs. I used the Hanson Marathon Method, purchased from Amazon, to guide my week to week training for 18 weeks. I love how their speed work was intentional and built upon itself each week. Within 3 weeks, I could see huge gains in my speed, form, and turnover. However, my main concern was still the long run, which this program advised the longest run be 16 miles. I wanted a 22 miler, so the weekly mileage was adjusted to work in a few longer runs beyond 16 miles. However, another aspect of the Hanson Method that I really enjoyed was the 6 runs per week; it was a challenge to manage because of the fatigue, but it did help get that overall volume necessary to finish a marathon strong. My highest mileage week was 66 miles, and my highest mile month was 228!
Overall, my training leading to the marathon was positive. A couple of days of tendonitis in my posterior tibialis had me biting my nails, but everything went very smoothly. From July 1 to October 25, I ran 878 miles on the roads, treadmill, and trails. Whoah.
Training Gear:
Saucony Kinvara – Seriously, I love these shoes: light, supportive, durable!
Superfeet Shoe Inserts Green – These helped eradicate any residual plantar fasciitis
Hoka One Clifton – My favorite new "moon" shoe running shoe – so cushiony!
Pro Bar Energy Chews – Raspberry with caffeine
Skratch Labs – Matcha flavor with caffeine
Darn Tough socks – no blisters or lost toenails FOR THE WIN!!!!
2280RUN friends
(All gear can be purchased at Bluestone Bike & Run in Harrisonburg, VA – best customer service and products around)
Training Races:
VA Momentum's Craft Brother's 3 mile relay: 5:52 (a new personal record)
2. Charlottesville Women's Four Miler: 27:54 (new course record)
3. VA Momentum's Valley Vines Twilight 5K: 22:52
4. Trail Blazer Treks Half Marathon: 1:39:41 (new personal record)
5. Run the Mountain Trail 10 Miler: 1:51:12
I arrived at the Marine Corps Expo on Friday afternoon. After getting my bib number, I bolted out of there. Fresh legs are key for running a marathon. So is carb loading… because FOOD. I ate a lot of food that night and enjoyed some good laughs with my friends Julie and Charlie.
The next morning, I met a few friends from Alabama, and we took the metro to the DC mall for a 3 mile shake out run! It was the most fun shake out run EVER. We ran around the monuments and took selfies every which way. People probably thought I was nuts… well, let me tell you that I was. Jumping everywhere and laughing out loud way too loud. The run felt great and got me very excited about the race to follow! I did get a tattoo the Wednesday prior. It says in Elvish "Not all who wander are lost" from the Riddle of the Strider in Tolkien's Fellowship of the Ring. My dad loved Tolkien, and I loved the message. It spoke to my spirit, and I placed it over my heart because it is my "Dad" tattoo, and he'll always be in my heart. I was glad to take him to the marathon with me.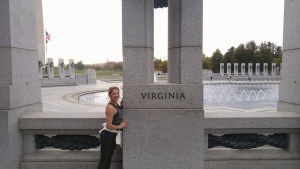 I ran two more miles with Charlie not long after (I needed a 5 mile shake out – remember that volume!). This is when I took a spill on the sidewalk. I went flying. I landed on the hip I had bruised pretty terribly at the trail race the weekend before, but I won the race, so my pride wasn't hurting… my pride hurt this day, but the bruise hurt more. Luckily, the pain wasn't noticeable when running. Phew! Close call. Now, time to eat and relax.
The night before MCM, I couldn't SLEEP!!! I was so excited. Holy anticipation. I never usually have issues falling asleep, but at least I got good sleep the night previous. On race day, I woke up at 4 and began eating. It's hard to eat on race day. Oh, I also downed a glass and a half of Skratch Labs and chia seeds… more on that later. Julie dropped me off at the metro to greet 30,000 of my closest friends! Just kidding, but seriously, I'm a morning person and everyone is my friend in the morning.
When we exited the metro at 6:40, the swarm of runners (mind you, the sun wasn't up yet) likened to zombie walkers… Walking fast is my MO… I knew I needed to get to the start line because I'm Type A and stuff! No luck here, as security was wayyyy backed up and the massive crowds of runners and spectators were not formed in any kind of line. I was worried but the lack of motion. Oh, and I needed to tinkle. Like bad. The minutes passed. I posted to Facebook around 7:40 that I wouldn't be starting on time, we had only moved forward 20 feet, and I still couldn't see the metal detectors we had to go through to enter the Runner's Village. I posted that I was adjusting my goals to incorporate the effect of a mass exodus of runners of all speeds starting at the same time.
Meanwhile, I was also literally hopping up and down now, as I really needed to PEE. Everyone around me knew, too. Then behold, a patch of grass appeared. Yes, you're thinking it, I was thinking it… it got real with my 30,000 closest friends. I asked them if they minded if I tinkled right there. Nobody minded at all. I'm thinking and saying "THANK YOU, THANK YOU, THANK YOU!!!!!" One man gave me his black plastic bag, which I placed over my head. Everyone was bursting out in laughter as I sat on the grass and "went". I got some verbal kudos for that… and P.S. it was like the longest tinkle of my life, but at least I had the plastic bag over my head. Walk of shame has nothing on this experience, IMO.
At 7:55, parachuters dropped down at the race line, we saw this from a very far distance, and about 10 minutes later, security let people start walking through the security check points. We were still about a mile from the starting line. I think I started the race around 8:14, 20 minutes after the start. It was VERY congested, but I was mainly just glad that the race had finally begun.
Miles 1 and 2 were hilly. Because of the crowds, I took to running on the sidewalk where possible to start the passing process. It felt good to be moving! The rain was drizzling, and I actually like running in the rain, so another plus. Just before mile 3, we crested a hill, and my groove kicked in. But I couldn't access it because of the crowds. This was a challenge because I'd find a line, weave through people (all the while trying not to kill anybody), and then be stopped by a walker or a runner with a significantly reduced speed. I felt really guilty trying to pass these people. They were here to run their race, too, and I didn't want to make anyone feel inadequate because of their abilities or get them hurt. It was frustrating.
I was beginning to sweat a lot around mile 4, where there was another incline, but this time much shorter. At the next water stop, I took two cups of waters and my Pro Energy Chews. GLORY HALLELUJAH, that water tasted delicious, and the effects of hydration were immediate. Temperatures on race day were pretty warm, starting around 55 degrees and rising. It was a hot day for a marathon. I then began the lollipop portion of the course with a turnout at the D.C. Zoo. Because it was a lollipop, I ran on the median between those ahead of me and those running with me. I was able to pass a significant amount of people without knocking people or weaving, too. That was a good move.
During the previous day's shake-out run, I began to feel a stitch on the right side of my abdomen, so I did sun salutations, upward and downward dog, you name it, to try to relieve the stitch. Around mile 7, the stitch came back. I was doing everything I could not to panic. I slowed down to take another two cups of water, breathed into the locus of the pain, and prayed it would go away. And would you believe it???? It did!!!
I enjoyed running the Blue Mile, where pictures of fallen soldiers were posted for the entire mile. We are so blessed to have people in this country ready to give the ultimate sacrifice for us. I was humbled and pushed through this mile. I looked at the faces of these brave men and women, most probably around my age, and pounded the asphalt. Thank you, by the way, to all service men and women. We couldn't have races like this without the freedom you fight so hard to keep for our nation and also the world. Thank you, Blue Mile, 1,000,000 times over.
Shortly after the Blue Mile, we hit the half- marathon mark. I ran the first half in 1:46 and some seconds. Pretty close to my hopeful 3:30 time, but negative splits are hard to hit, and I continued to focus on staying hydrated, keeping myself mentally in the game, and enjoying the experience.
Around mile 17, I passed the 4:00 pace group, as we began approaching the national monuments. It took me THAT long to reach them in the race – that's how far behind I was when I began. I pat myself on the back for getting that far, but I had reduced my distances between refueling from the original plan of every 5 miles, take 2 energy chews to every 4 miles, take 2 energy chews. I was starting to fade… and fade fast.
Just after mile 19, I picked up my pacer, Katie Harman.
She is an absolute beast let me tell you. 8:00 miles for her is her "easy pace". I kept my headphones in, but I can't reiterate enough how good it was to have her there, helping me navigate around runners, keep me from shutting down, and actually have someone running my pace, because remember, I'm still passing runners. I ran the first 19 miles with a different group of people every 5 seconds!
At mile 21, we hit the bridge. Holy mother of bridges – OUCH! I walked a couple of times, refueled, cussed maybe like once. For real, I'm proud of me about that. Haha. The bridge was about a mile long. I laughed out loud when we took the exit ramp descent (yay for downhill!), there was someone holding a sign that said "Hey, didn't that hill suck?". Um, yes. Yes, it did. Okay, focus, 4 miles to go.
The last four miles were crowded with people. At mile 23, I was fading. The legs were starting to fill with lactic acid, or whatever it is that makes you feel as though you're made of gelatin. I walked every now and then. Katie was so positive. I should have told her to cuss me out and be tough… but she kept me going. Thank you, Katie!!!!! At mile 24, I was like uh really dying. I walked a little more, cried, cussed, and whatever because I was having a hard time coping with the fact that I was so close to Boston Qualifying but my legs just wouldn't turn over anymore. Once I finished being a toddler, we started running again. Marathons are dramatic, yo.
Finally, we entered the runner's village, where the madness had all begun. I knew the finish was close. So close. There were people everywhere. I was starting to run strong again. Then I saw a hill. I mean it was a short hill. But it was a hill, and it hurt my feelings. I walked. All of the marines were there and so were all of these other spectators, and I said "I am NOT running this hill." Katie took it on the chin for about 15 seconds, and then she pushed me. About 150 meters later, I had stomped it out with a look of agony (didn't buy that race picture) and crossed the finish line at 3:37:23. I was bummed to miss qualifying for Boston by 2 minutes and 23 seconds, but I KNOW I would have done it had I run with my corral. I am currently deciding whether I will run Richmond in two weeks and go for BQ there. It was a disappointment, but when I considered the amount of people I had to pass starting from the back to finish with the 3:50 marathoners and still managing a 9 minute personal record for the marathon distance, I'd say that I am proud of my performance at this race.
Immediately following the finish, I shook hands with marines, received my medal, and directed myself to the medical tent. My knees were aching, and ice was a must. Best decision I ever made.
I was a little sore. I was a lot of tired. I was a lot of happy. I did, in spite of the start fiasco, accomplish a 9 minute personal record in the marathon. My Strava account indicated that I ran 26.5 miles, and additionally, my marathon time according to Strava was 3:34:39. I Boston Qualified according to Strava – shouldn't that count for something.
Here are my takeaways:
Always be early. Life is less stressful when you're early.
Don't be afraid to pee in public. Only if it's absolutely necessary. We are "FREE TO PEE!"
When race-day hiccups happen, stay cool, adjust, and do what you can.
"The whole marathon experience was a perfect metaphor for life: you can't control the weather, or the other people around you who sometimes get in your way. You can't control that sometimes things happen that you really didn't sign up for. You can't control that sometimes it's harder than you expected and you can't even control how much it hurts. And during some stretches, you feel really alone and all you can do it wait it out. But you DO have control over two things: a) your attitude and b) whether or not you're going to keep giving it everything you've got. Bonus c) while you're at it, you might as well support/encourage those around you and appreciate those special few who love you and are always your support system." (From a friend who prefers to be anonymous – I couldn't have worded this better myself.)
Here are my thank you's:
1. Thank you to my children, for sacrificing time with me to let me pursue a goal that ultimately I hope will inspire them to chase their dreams.
2. My family and friends who encouraged me not to give up on myself or this race after my husband and I separated and began the process for divorce.
3. My training partners (near and far), who were the absolute best company during a 4.5 month training period.
4. Thank you to Hannah Foust for stepping forward and dropping my bag off at the drop trucks so that I could focus on peeing and getting to the start line. There just aren't words. :)
5. Bluestone Bike & Run and VA Momentum for allowing me to represent their store and mission statements with pride. They took such good care of my training needs and are always supportive to our local running group: 2280RUN.
6. Julie and Charlie; Grace and Charles for letting me crash at their place and help me navigate the Urban Jungle that is D.C.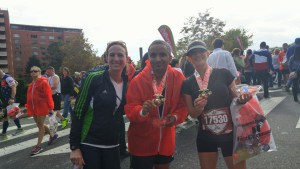 7. Marine Corps Marathon for a beautiful race and overall experience.